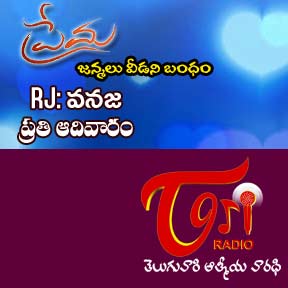 Program On

Program Name

Listen

Jan 13 2019
Prema
Jan 06 2019
Prema
Dec 23 2018
Prema

»

More Archives...
Host: Vanaja U
TORi Show(s): PREMA – Janmalu Vidani Bandham
Zodiac: Aries
Occupation: Radio Jockey
Location: Hyderabad
Education: MBA (HR/MARKETKING)
Talents: Writing poems, Dance
Passion: Passionate about RJ'ing and dubbing
Likes/turn-ons: Reading books, watching movies, listening to music
Dislikes/turn-offs: Unpleasant attitude
Favorite quotes: 1.Arise! Awake! And stop not until the goal is reached - Swami Vivekananda
2.The earth has music for those who listen
Favorite books/authors: Chetan Bhagat
About me: Independent and fun loving person.